Latest News
Thursday 23rd April
LUCAS FETTES CUP FINAL
BRENTWOOD TOWN 3 SUTTON UNITED 1
(after extra time)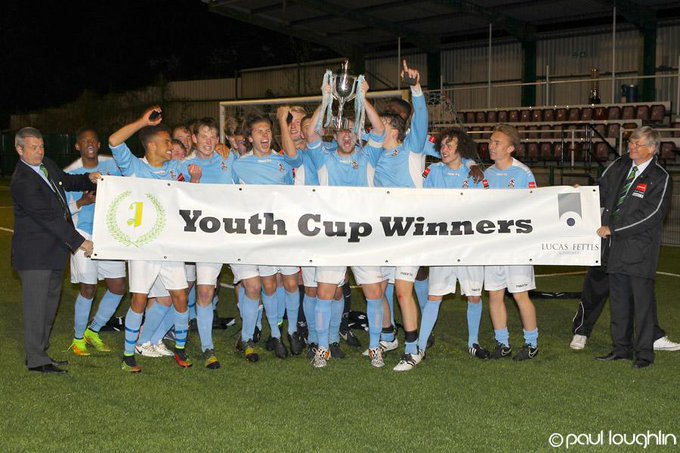 Brentwood Town won the Lucas Fettes (Ryman Youth) Cup for the first time with a dramatic extra time win at Whyteleafe FC on Thursday evening. 
John Burgess gave the Blues a lead in the first half, heading home in 32nd minute, but Aidan Brown equalised for Sutton two minutes before half time. 
In a close-fought second half both sides hit the woodwork but at 1-1 after 90 minutes the game went into extra time. 

Connor Hogan made it 2-1 in the 99th minute and despite pressure from Sutton it was Brentwood who looked more likely to score on the break through Hogan. And it was Hogan who set up Elliott O'Connor for the clinching goal right at the end of the second half of extra time. 
Brentwood Town: James Alborough, Jack Chatterway, Robert Carroll, Will Barry, John Burgess, Ade Olymuyiwa, Connor Hogan, Josh George, Charlie Portway, Hisham Kasimu, Joe Cutmore, Arthur Rogers, Jack Kindell-Brown, Elliott O'Connor, Max O'Dwyer, Anrew Fennel. 
Also on Thursday, Brentwood Town Under-21s won the Essex, Herts Border Combination League Cup by defeating Chelmsford City 2-1 in the final that was played at Great Wakering Rovers FC.
City took the lead midway through the first half despite Brentwood having territorial advantage. In the second half, Brentwood continued in the ascendancy and equalised through Alex Akrofi when he used his pace and strength to beat the defence.
Extra time was looming when a chipped free kick from the halfway line by Tommy Oliver was nodded down by Christian Mbulu and finished by Akrofi.
Brentwood Town squad: Sam Cole, Theo Cannon, Jake Webster, Christian Mbulu, Tommy Oliver, Aaron Lesta Candol, Danny Aldwinckle, Jamie Hansen, Alex Akofi, Andrew Freeman, Michael Osei, Shad Ngandu, Shane Drummond, Jack Robson, Matt Williams.