Brentwood Town lose out to Hunt double at Heybridge
Saturday 25th April
RYMAN DIVISION ONE NORTH 
HEYBRIDGE SWIFTS 2 – 0 BRENTWOOD TOWN
By Martin Voller
Brentwood Town will go into their play-off semi-final against AFC Sudbury without a win in four games after they lost 2-0 to Heybridge Swifts at Scraley Road.
Read more: Brentwood Town lose out to Hunt double at Heybridge
Cup success for Under-18s and Under-21s
Thursday 23rd April
LUCAS FETTES CUP FINAL
BRENTWOOD TOWN 3 SUTTON UNITED 1
(after extra time)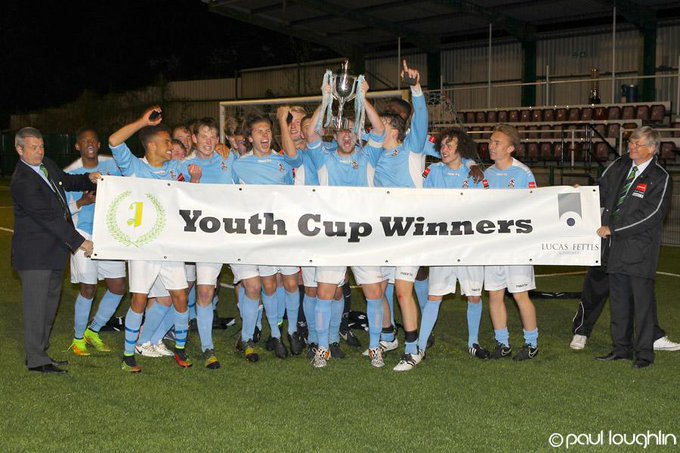 Brentwood Town won the Lucas Fettes (Ryman Youth) Cup for the first time with a dramatic extra time win at Whyteleafe FC on Thursday evening. 
John Burgess gave the Blues a lead in the first half, heading home in 32nd minute, but Aidan Brown equalised for Sutton two minutes before half time. 
In a close-fought second half both sides hit the woodwork but at 1-1 after 90 minutes the game went into extra time. 

Connor Hogan made it 2-1 in the 99th minute and despite pressure from Sutton it was Brentwood who looked more likely to score on the break through Hogan. And it was Hogan who set up Elliott O'Connor for the clinching goal right at the end of the second half of extra time. 
Brentwood Town: James Alborough, Jack Chatterway, Robert Carroll, Will Barry, John Burgess, Ade Olymuyiwa, Connor Hogan, Josh George, Charlie Portway, Hisham Kasimu, Joe Cutmore, Arthur Rogers, Jack Kindell-Brown, Elliott O'Connor, Max O'Dwyer, Anrew Fennel. 
Also on Thursday, Brentwood Town Under-21s won the Essex, Herts Border Combination League Cup by defeating Chelmsford City 2-1 in the final that was played at Great Wakering Rovers FC.
City took the lead midway through the first half despite Brentwood having territorial advantage. In the second half, Brentwood continued in the ascendancy and equalised through Alex Akrofi when he used his pace and strength to beat the defence.
Extra time was looming when a chipped free kick from the halfway line by Tommy Oliver was nodded down by Christian Mbulu and finished by Akrofi.
Brentwood Town squad: Sam Cole, Theo Cannon, Jake Webster, Christian Mbulu, Tommy Oliver, Aaron Lesta Candol, Danny Aldwinckle, Jamie Hansen, Alex Akofi, Andrew Freeman, Michael Osei, Shad Ngandu, Shane Drummond, Jack Robson, Matt Williams.
Stanley's double books Brentwood Town's play-off place
Saturday 18th April
RYMAN DIVISION ONE NORTH 
BRENTWOOD TOWN 2 – 2 CHATHAM TOWN
By Martin Voller
Sherwin Stanley scored twice as Brentwood Town confirmed their place in this season's play-offs with a 2-2 draw against Chatham Town at The Arena.
Read more: Stanley's double books Brentwood Town's play-off place
Brentwood's play-off march stalled by Barkingside
Tuesday 14th April
RYMAN DIVISION ONE NORTH 
BRENTWOOD TOWN 1 - 3 BARKINGSIDE
Brentwood's march towards the play-offs stalled at the hands of relegation-haunted Barkingside who boosted their chances off avoiding the drop with a splendid second half performance at the Brentwood Arena. 
Read more: Brentwood's play-off march stalled by Barkingside
Blues fail to capitalise on dominant first half
Saturday 11th April
RYMAN DIVISION ONE NORTH
DEREHAM TOWN 2 – 1 BRENTWOOD TOWN
Brentwood missed the chance to clinch a Ryman North play-off spot after they failed to capitalise on a dominant first 45 minutes in Norfolk on Saturday.
Stanley strikes again as Brentwood move up to third
Monday 6th April
RYMAN DIVISION ONE NORTH
BRENTWOOD TOWN 1 - 0 TILBURY
Sherwin Stanley was again the hero for Brentwood, coming off the bench to score a second half winner that lifted Blues into third place in Ryman North. 
It took until the 72nd minute for the home side to break down a resolute Dockers defence but it was a goal worth the wait for crowd of 122. James Love won a header in the middle of the park and found Alex Akrofi who hit a first time pass to Sam Bantick who sped away on the right and played a perfect ball across to Stanley who produced a fine finish at the far post. 
Blues had been frustrated not to get a first half lead. Robbie Rees shot just wide in the fourteenth minute after a good build up between Danny Dafter, Alex Akrofi and Tom Richardson. 
Then Tilbury centre back Jake Pooley produced a near-miraculous clearance to deny Tom Richardson on the goal line after Dafter had headed a free kick at goal. Akrofi leapt high to head a Bantick corner against the cross bar in the 25th minute with Rees firing the follow-up just over the bar from 20 yards out. 
Dafter had another header from a Rees free kick blocked on the line while Akrofi was unlucky again in the 40th minute when he won another header only to see Jack Carlile clear of the goal line. 
But Tilbury went close on the stroke of half time when Neil Richmond hit a decent chance over the bar. 
Richmond had another half-chance in the second half but Blues generally dominated with Akrofi's pace troubling the Dockers defence more as they began to tire. 
After Stanley's strike, Tilbury strove hard to get back in the game but Akrofi had a chance to increase the lead right at the end, shooting over after Rees had put him through. 
With other results going Brentwood's way on Easter Monday, it now looks very likely that they will secure a play-off place in the next couple of weeks. With four league games left to play, Blues have a seven-point lead over sixth-placed Wroxham who have played one more game. 
Brentwood Town: Bowles, Mbulu, Baucutt, Stokes, O'Rawe, Love, Bantick (Dobbs 89), Dafter (Ngandu 81), Akrofi , Richardson (Stanley 65), Rees. Unused subs: Freeman, Robson.